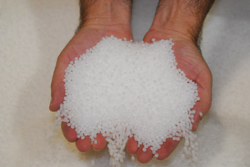 Incorporated in 1999, Delcor Polymers has become a leading supplier of Thermoplastic Resins to plastics processors in the United States. Based in Matthews, North Carolina with warehouse locations in Charlotte, NC and Charleston, SC, Delcor is able to service its customers with on time deliveries. Our goal is identifying our customer's needs and aligning those needs with our suppliers expertise to supply custom tailored resins and compounds. Markets include Automotive, Lawn and Garden, Electronics, Housing and Packaging.
As a full service distribution organization we are able to offer plastic materials with a support system including complete resin analysis, reverse product engineering, technical and consultative support and onsite analysis. Our resins offerings include materials meeting various automotive specifications, Underwriters Laboratories approvals, NSF and being RoHS compliant. We are also involved with various recycling programs that allow us to reduce the amount of waste being put into landfills while allowing our customers to offer products with Post Consumer content.
Our mission statement is to help our customers with the 3 P's. Price, Properties and Processing. Addressing any combination of these concerns will provide our customers the ability to produce quality products in a timely fashion that meets or exceeds their customer's expectations while reducing raw material costs and helping to increase profit margins.